Our history
The birth of the Secular Institute "Spigolatrici della Chiesa" is linked to some important dates:
9 July 1947: Pia Tavernelli chooses a new form of consecration and other young women are ready to join her in this form of consecration;
8 December 1949 : the Bishop of Città di Castello, Mgr Filippo Maria Cipriani, approves the Statute and by so doing declared it a Pious Union;
8 December 1967: the Bishop of Prato, Mgr Pietro Fiordelli, raised the Institute to one of diocesan right;
8 December 1972: The Constitutions ("Our Book of Life") renewed according to the teachings of Vatican Council II were approved;
6 August 2007: the raising of the Secular Institute of the "Spigolatrici della Chiesa" to one of pontifical right by the Congregation for Institutes of Consecrated Life and Societies of Apostolic Life.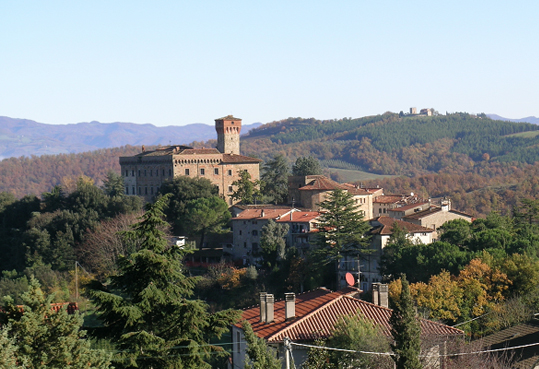 The foundress
The foundress of the Institute, Pia Tavernelli, was born in Citerna (Perugia) on August 16, 1906 of a family modest in means but rich in moral and religious values. Here she became increasingly aware of her desire to offer her entire life to Jesus who loved her so much.
When she was 16 years old she became a teacher in the Primary School which was next to the Seminary of Città di Castello and where she was to remain until she was 19 years old. Then in 1928 she received her appointment as a Primary School teacher at Lippiano, a small village near Citerna, where her life story was to unfold.
In 1930 she joined the Institute of "le Piccole Ancelle del Sacro Cuore" founded by Mgr Liviero. After a year of formation Pia, now Sister Angelica dell'Immacolata, returned to Lippiano and resumed her teaching activities.
It was during her stay in this small village that her life took on a different turning which was to give an indication of what was to follow. An act of obedience in which she chose to remain at Lippiano actively engaged in the community was to lead her to discover Jesus, alive and present, in a ruined and abandoned chapel.
The zeal with which she carried out her activities in catechesis and evangelization made her aware of the need of a new church where religious functions could be performed.
Meanwhile, as far back as the 8th of December, 1936, Pia while in prayer and planning projects was becoming increasingly aware that still another 'building' was be constructed.
"What is needed is living stones, living tabernacles capable of loving the Lord and through their generous offering help in the construction of a spiritual edifice".
It was with this in mind that the foundress started planning a new form of consecration: an evangelical life following Christ, in the very midst of the world, with no restrictions whatsoever, to be of service in the apostolate of the Church and in the world.
Ten years were to pass before the Church gave her consent; the initial intuition, at first misunderstood, was finally acknowledged. On the 9th of July 1947 Pia received the Bishop's blessings and his permission to start God's new project, later to be known as a Pious Union ( 8th December, 1949). It was in this way that the Secular Institute "Spigolatrici della Chiesa" came into being. Then in 1967 Mgr Pietro Fiordelli, Bishop of Prato, raised the Institute to one of diocesan right.